DIRECTIONS TO THE VILLA
FROM ALICANTE AIRPORT

Although there are two routes you could take, we recommend, for convenience, taking the A7 then the "AP7 Motorway" route to the villa. This motorway will get you to the villa in 30-40 minutes.

From Alicante Airport follow Motorway signs for, initially Murcia and Cartagena (A7),after a few miles, you will see signs for (AP7) Cartagena, take this motorway and proceed until you come to a turn-off for LA ZENIA. (Exit 763).The only downside to using the motorway is that you will have to pay a couple of small tolls the last of which is when you exit the motorway at LA ZENIA.

Upon exiting, and passing through the toll-booth, you will come up to a large roundabout, ignore the sign for La Zenia and follow the sign for "Villamartin" by driving through the new underpass.Once through the underpass proceed along this tree-lined main road,over the first roundabout,and for about half to three quarters of a mile, and you will see a Dialprix supermarket on your left,where there is a roundabout, take the 2nd exit off this roundabout.

Proceed along this road keeping to the right and keeping Villamartin Golf Course to your right,follow sign for Fortuna 4 and Sevilla, proceed as far as you can go to a T Junction, turn right and follow the S-bend around and up the hill.

The house,no 45,is the third house from the end a couple of hundred yards up on the left hand side.

The address is: Calle Fernandez Caballero,45 Piso,PTA 3,Urb Sevilla,Villamartin,Orihuela Costa,03189 Alicante,Spain.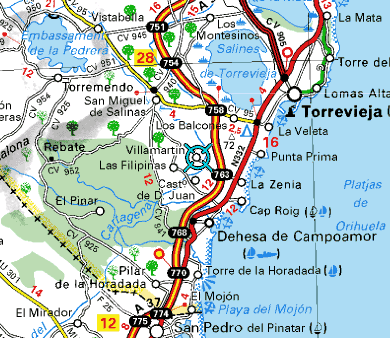 View Larger Map
FROM SAN JAVIER (MURCIA)AIRPORT
At exit from airport,proceed over roundabout and follow signs for AP7 Motorway signposted for Alicante. Join motorway and travel for about 20 miles and exit the motorway at LA ZENIA. Proceed to the villa as per the instructions given above.
BACK TO HOME PAGE