Villamartin Golf Course and two other championship courses are all within a ten minute drive, in fact the fairways of Villamartin undulate along the back of the properties opposite.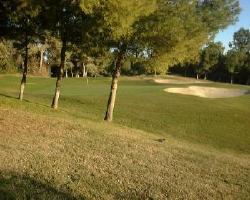 You could,in fact,walk to the course.
From the Villa,walk down the street,at the bottom you will see a gate onto the course.
Upon walking through the gate,you will see the 17th green in front of you(see picture on right),follow path straight ahead and you will come to 18th tee.
Walk past 18th tee and you will come onto a concrete roadway,walk the length of the 18th hole and you will arrive into the clubhouse area once you walk past 18th green.
Walking it from the villa should take you no more than 10 minutes.
There are two other major courses within a 10 minute drive at Las Ramblas and Campoamor.
Villamartin: 18 holes, par 72,6132 metres.
Tel: (+34) 96 676 50 51
Fax: (+34) 96 676 51 58
The most established of the three local courses and is the one that the villa is closest to. Clever use of natural contours, an abundance of fairway olive trees and well placed bunkers makes it a challenging course for players of all abilities.
---
Las Ramblas: 18 holes, par 72,5770 metres.
Tel: (+34) 96 532 20 11
Fax: (+34) 96 532 21 59
This stunning course is the shortest of the courses but without doubt the most challenging, demanding accuracy and thought at each hole. High tees, narrow fairways and ravines feature strongly on this memorable course.
---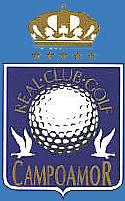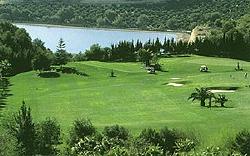 Campoamor: 18 holes, par 71,5830 metres
Tel: (+34) 96 532 13 66
Fax: (+34) 96 532 24 54
The front nine are fairly open but fast well protected greens lie in wait for the unwary!
The back nine are an altogether more demanding challenge as they wind their way through steep sided hills providing very enjoyable golf.
---
DIRECTIONS TO GOLF COURSES